LGT Private Banking
Website relaunch for the private banking of tomorrow
How do you combine the traditional values of a private bank that is over 100 years old with the demanding expectations of clients for a modern website? This was the task we set ourselves in the relaunch project for LGT Private Banking.
Technically and visually sophisticated websites are the flagship of pioneering banks. With a long tradition in private banking, LGT Private Banking was faced with the task of refocusing its digital communication. This involved much more than the technical relaunch and visual facelift of a single website: We combined the spirit and values of the family-run private bank in a highly user-centric experience with the technological possibilities of a flexible and secure web platform based on the CoreMedia Content Cloud.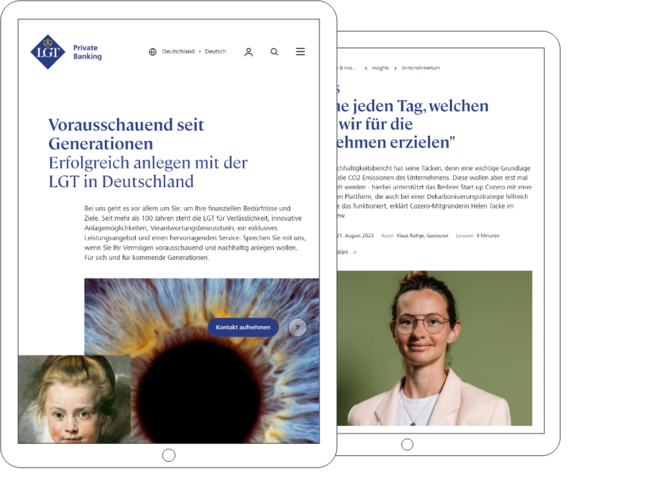 Target group and client wishes in harmony
In private banking, digital offerings support client advice, but will never replace it. Only personal contact creates trust, strengthens lasting relationships, and addresses the most individual needs. Against this backdrop, we sharpened access to the bank's diverse range of services in the UX concept. Customers can quickly find suitable solutions for their various needs and can contact advisors at any time using simple and secure contact options.
In a Future Lab, we brought all LGT stakeholders together and laid the foundation for the conception of the new website. With the requirements of the different areas in mind, we completely rethought the information architecture: fast, simplified information access and easy user navigation merge with a clear design language that embodies the spirit of LGT in its calm and simplicity.
With the successful website relaunch, we are now better positioned to meet the constantly changing requirements and expectations of our target group. I look forward to continuing to work well with ]init[ to continuously optimize LGT's websites and introduce innovative features together.
Product Owner LGT Websites
UX consultants, UI designers and developers worked in highly parallelized sprints against an ambitious schedule for the go-live. A challenge that could not have been mastered without the close and trusting collaboration with our client in the conceptual project and in short coordination loops.
Our development department got involved in the project at an exceptionally early stage. This enabled LGT's decisive feedback on technical feasibility, development options, and UX and SEO issues to be efficiently incorporated into the rough concept and detailed design.
Our content managers also began introducing the LGT editorial team to the new CoreMedia workflows during the implementation sprints and prepared the extensive content migration. Thanks to the parallel interaction of all teams, we were able to master the go-live within the agreed timeframe.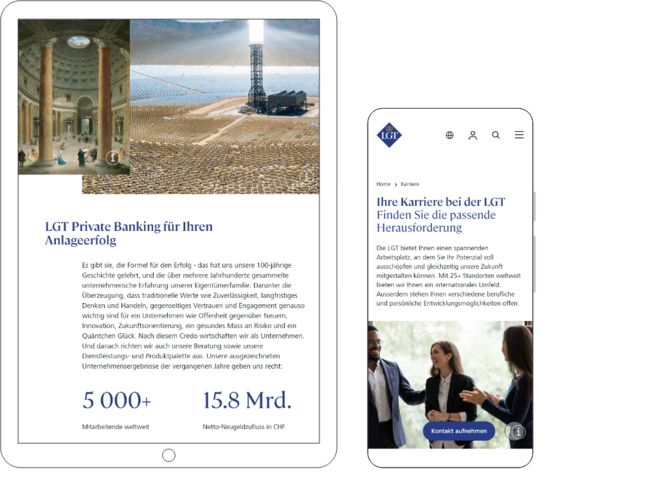 One CMS for all and everything
With CoreMedia Content Cloud 11, we implemented a comprehensive multi-site system that combines eight country sites, each with different language variants. LGT currently manages over 40 websites in the central CMS framework, plus the new websites of LGT Wealth Management and the LGT Venture Philanthropy Foundation. All websites are united by a common content repository with intelligent synchronization and translation workflows. Once content has been made available, it can thus be easily and flexibly played out on any site.
By integrating tools, we were able to further simplify existing workflows and move them directly into the CMS environment: a document center manages the documents selected by users, taking regulatory requirements into account, allows them to be downloaded in various formats, and provides a subscription option. Via the mailing tool CleverReach, the newsletter dispatch including subscriber management is controlled directly from the CMS. LGT's recruiting tool with job ticker function is also seamlessly integrated into the career area.
With the new CMS network, we offer LGT clients flexible access to information that is tailored to their needs and provides the best possible support for personal advisory processes.
Our services in the project
Current projects and topics