Creating innovations with data
Using data from an interactive pool, municipalities can identify challenges more quickly and improve local living conditions based on facts. For the 15th birthday of the Bertelsmann Stiftung's Wegweiser Kommune, we accompanied a major upgrade that won the German Design Award.
How will the childcare rate in Berlin's daycare centers develop, and how will population trends affect the number of care places by 2030? Demographic data can be used to identify challenges that can then be addressed with innovative solutions.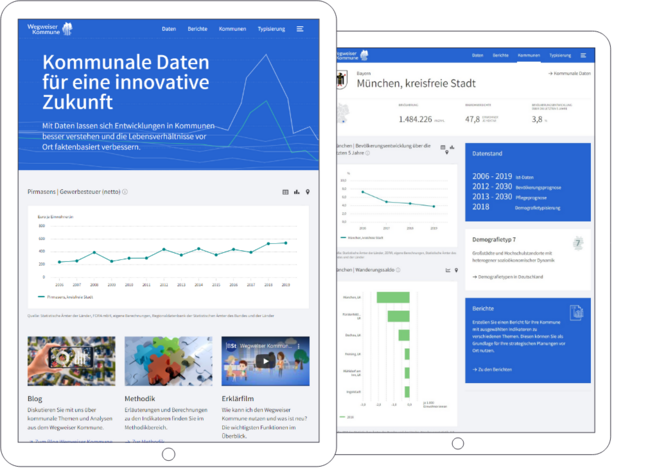 Innovations from big data
Since 2006, the Bertelsmann Stiftung has offered a gigantic data pool with indicators and forecast models in the form of the Wegweiser Kommune. This allows demographic developments in German municipalities to be read, so that politicians and planners can make fact-based decisions for innovations.
We have been supporting this high-profile project from the very beginning, keeping our finger on the pulse of the digital zeitgeist with our knowledge of UX trends and future-proof technologies. In this way, the Bertelsmann Stiftung can use the tool to create a basis for improving living conditions in local communities in the way that citizens need.
In a joint Scrum team, we worked very intensively with ]init[ on the largest update of Wegweiser Kommune to date. The initial project 15 years ago has grown into a long-term partnership characterized by trust.
Bertelsmann Stiftung
The Bertelsmann Stiftung is celebrating the platform's 15th anniversary in 2022 with a comprehensive relaunch. To achieve this goal, we worked with users to develop a clear, functional and content-oriented user interface. The revised technical framework now opens up a lot of potential for further developments.
Since the relaunch, users can now compile data more flexibly using over 350 indicators. This makes topic-based correlations visible that were previously hidden in the data treasures. Actual data can now be extracted with just a few clicks for free use - for example, for your own analyses. To ensure the right performance, we use ReactJS to generate meaningful visualizations from complex data sets in no time at all.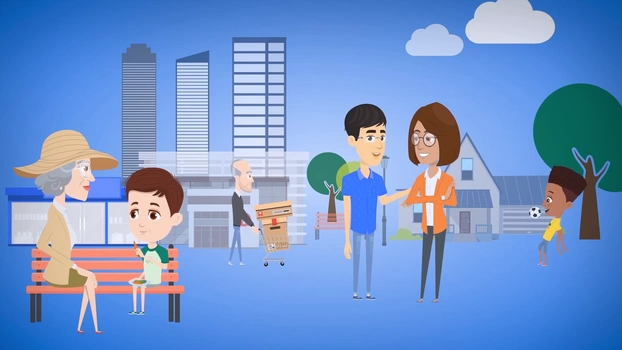 Honored with the German Design Award
For the particularly simple, clear and convenient implementation of the interaction interface, Wegweiser Kommune  was awarded the German Design Award 2022 in the category "Excellent Communications Design: Web". The premium prize of the German Design Council is reserved exclusively for design achievements whose design approach particularly impresses the expert jury.
The Wegweiser Kommune contributes to making life better through innovation. That's why we continue to accompany the project with passion.
Our services in the project
Current projects and topics