Creating transparency with durable technology
The more accessible information is, the more transparent our actions can be. That's why 14 consumer advice centers are bundling their digital activities to better inform citizens about current consumer protection issues. Durable CMS technology makes this efficient and easy.
We think of our projects holistically and rely on complete solutions that are designed from the outset to work for several years - without losing their appeal. We always focus on the internal usability of the platforms for the editorial teams and, of course, the user experience.
This approach is the basis for the joint CMS Association of German Consumer Organizations, which we implemented in 2017 and have been managing ever since. The fresh umbrella architecture brought the organizations up to the state of the art in one fell swoop. To this day, it ensures a high degree of futureproofing in addition to a uniform user experience.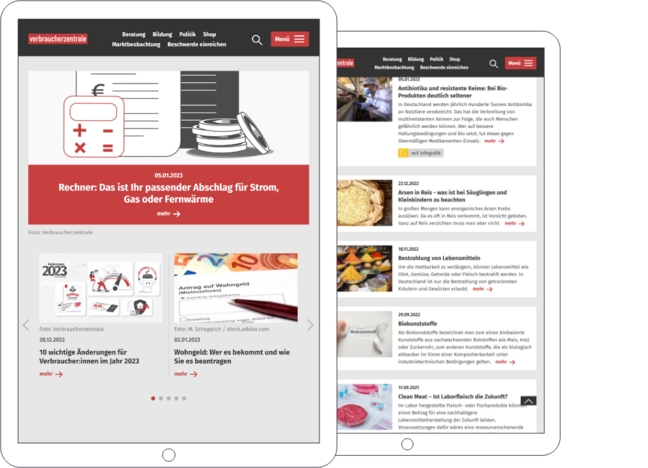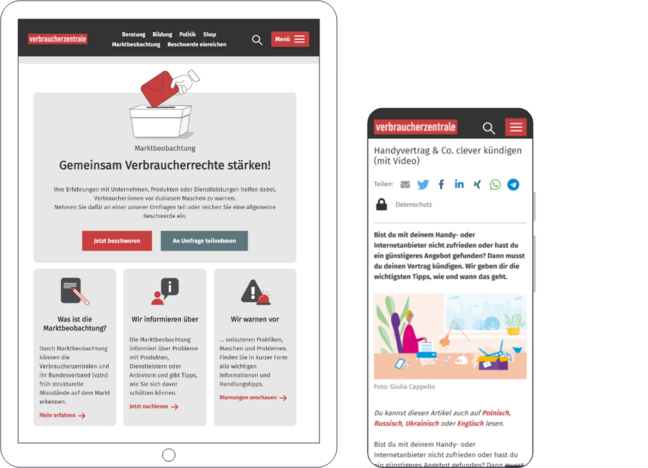 When consumer centers warn, give advice, or get to the bottom of causes, they are sure to get consumers' attention. Consumer information must therefore be quickly available online. This is ensured by the harmonized portal landscape of the community and country sites. Based on the open-source CMS Drupal, we laid the foundation for a modern and uniform appearance that now benefits 35 portals and project sites.
Multi-client architecture
With the CMS framework, the joint editorial team can play out published articles on all connected portals. However, the countries can also adapt this content in parts and thus set more individual focal points and involve consumers in a more targeted manner. For this purpose, we developed a CMS toolbox with various modules. In this way, the portals and project pages look uniform, but can still be designed individually.
The consumer centers show: Durable innovative technology not only improves internal processes, but also has a positive effect on target groups. Consumers benefit from the bundled web presences. They find transparent information and important tips for various products.
Our services in the project
Current projects and topics