Reaching the top with intelligent technology
A strong digital brand needs recognition value, should be contemporary and radiate consistency. We supported one of the world's largest futures exchanges, Eurex Frankfurt AG, in repositioning its online presence with state-of-the-art technologies and skillful UX design.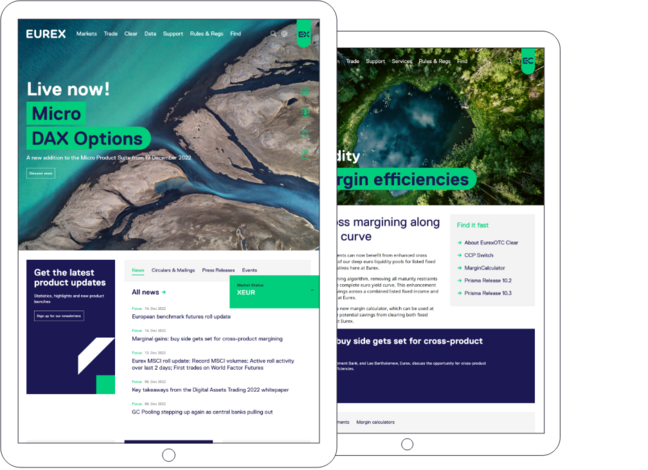 With a strong digital presence, companies can stand out from the competition and demonstrate a feel for trends and topics. In this context, Eurex AG, a subsidiary of Deutsche Börse Group, entrusted us with the visual and technical facelift of its information portal. With optimal user experience design, we perfectly matched the complex services to the needs of trading partners and created a holistic brand experience.
Boldly breaking new ground
Innovative strength and courage for new paths are our drive for a successful implementation. We took the new brand strategy and the design freshly created by a branding agency as a starting point. So, we adapted the Eurex platform to the new corporate design and created a strong prototype in great steps in the UX and UI processes.
Bringing content to the point
Content must be to the point and yet flexible. This is possible with the CoreMedia Content Cloud. The modern system offers many features, including an intelligent product search that delivers suitable results from anywhere. And thanks to the one-domain concept in a uniform design, Eurex stakeholders in Europe, Asia and America now gain confidence in the brand and recognize it from anywhere.
With this strong web presence based on state-of-the-art technology, Eurex can stand out from the market and better reach target groups. Once again, we have proven that innovative communication is the key to the top.
Our services in the project
Current projects and topics