Digital service in full swing
Repairs to the engine in less time and easier preparation for the workshops - with the Connect app, DEUTZ AG found a successful entry into the digital service world. We received the Red Dot Design Award for excellent communication design.
Does the engine run smoothly? Is the delivery pressure optimal? Does coolant need topping up? Mobile engine diagnostics can help before an agricultural or construction machine breaks down and causes expensive downtime. Together with DEUTZ, we simplified complex service and repair processes with the Connect app. Because we know: Buyers are only satisfied and committed to a product if it is easy to use and offers quick help at the right time.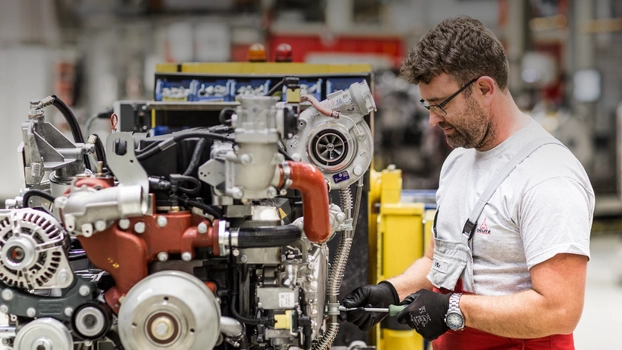 With the development of the digital solution, DEUTZ is moving as a technology leader in the industrial segment while at the same time keeping an important promise to customers: precise and fast service worldwide and at any time.
With the DEUTZ Connect app, we are providing end customers with a powerful and modern tool that makes the service and maintenance processes for our engines even more efficient.
Member of the Board of Management, DEUTZ AG
Real-time data from the engine
The app is a mobile touchpoint that customers can reach quickly via smartphone. It bundles a lot of engine information on a clear dashboard. It evaluates system parameters of the machine and the exhaust aftertreatment in real time.
Users can then easily read the engine speed, ambient air pressure and temperature, fuel delivery pressure or coolant level in the diagnostic tool. The tool draws the data via a Bluetooth interface, for which only an OBD-2 diagnostic adapter has to be connected to the engine.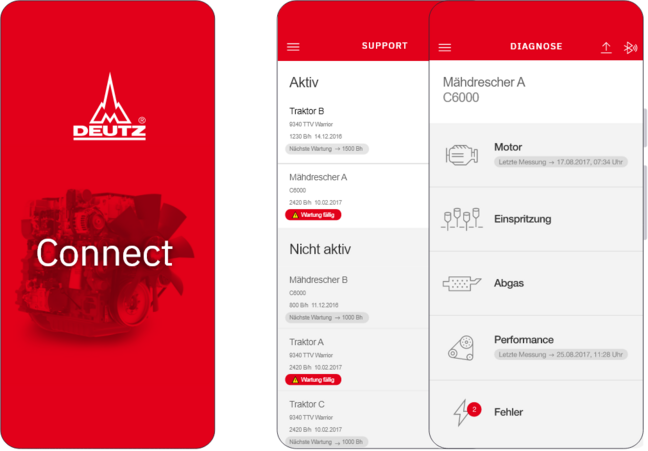 Service and repairs in the shortest possible time
With these targeted measurements, for example on engine utilization, DEUTZ customers can easily identify and record problems themselves that previously only the technical service could identify. If customers find irregularities, they can contact a local workshop via the app and transmit the error memory with one click. The measurement data helps the technicians to quickly prepare an extended diagnosis and repair.
The Red Dot design competition recognized us for the development of the app in the "Mobile App" category for outstanding design and creative work. In addition, we were nominated with the project for the German Digital Award in the category "Digital Transformation" and won the silver Annual Multimedia Award as well as the "Interactive Award" in the Gute Gestaltung 19 competition.
We are very pleased about winning the Red Dot Award, which honors the concept and design as well as the technical implementation of the app and thus strengthens us in our future-oriented digitalization strategy.
Member of the Board of Management, DEUTZ AG
Our services in the project
Current projects and topics