Successful internal and external communication
Continental develops technologies worldwide that network mobility and thus make life smarter and safer. To showcase this successful work in corporate communications, we restaged the digital brand with a new corporate website and corporate intranet.
Our aim is to develop innovations that enable our customers from the business world to stand out clearly from the competition and thus be more successful in the market. The collaboration with Continental shows how our digital solutions improve internal and external corporate communications. Our approach to this: We put the needs of the users at the center.
Uniform corporate communication
We helped Continental AG strengthen its digital brand with a globally uniform Internet presence. Previously, there were independent Group websites and country platforms. To bundle the offerings, we worked together in an agile process. In this way, we identified obstacles at an early stage and reacted quickly to changing requirements.
The result is impressive: In six central information hubs, users can easily obtain information from the central website. Navigation is intuitive and all content can be reached with a maximum of three clicks. The platform is technically based on the CoreMedia Content Cloud, which connects all channels into a unified user experience.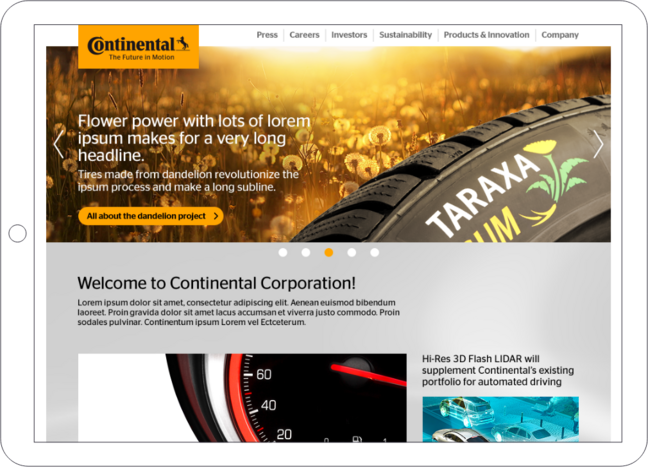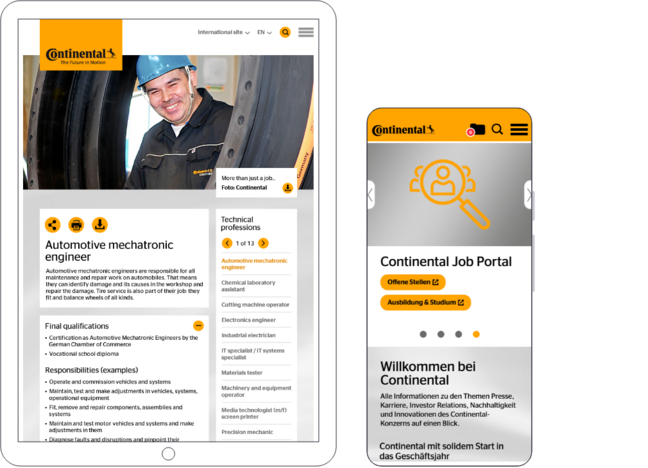 We know what makes our target audiences tick, and have accordingly designed the site to be a valuable part of their user journey.
Manager Online Relations, Continental
Excellent corporate culture
Dialog and information exchange among employees strengthens the corporate culture and sustainably promotes external communication. To this end, we set up an intranet for Continental that connects everyone and everything. For this groundbreaking concept, the project received first place in the Intranet category at the Europe-wide Digital Communication Awards.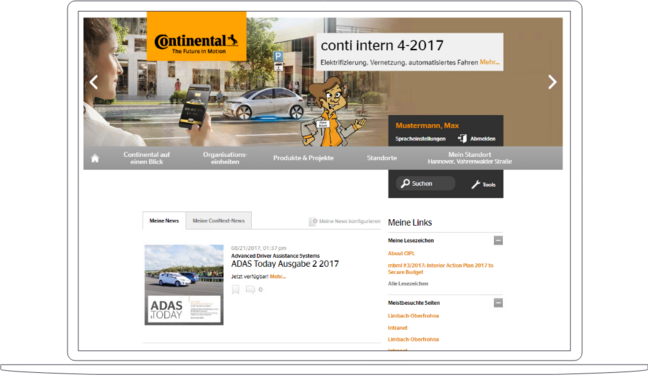 We also opted for the CoreMedia Content Cloud for the intranet, which was technically best suited to the requirements.
Based on user stories and user experience tests, we developed a social intranet that helps in everyday work: Continental employees can connect, share content and use services in a visually appealing environment. A unique mixed-language concept breaks down language barriers, and the integrated collaboration tool ConNext allows users to work together on projects. Editorial effort in intranet support is also minimized, because an algorithm automatically removes outdated content. To ensure that all employees can find their way around the intranet, face-to-face and digital editorial training sessions were held at various locations around the world.
With the uniform website and the connecting intranet, Continental has taken the topic of communication into its own hands and, with our solutions, is now making full use of the possibilities of digitalization, both internally and externally.
What employees say about the new intranet
Our services in the projects
Current projects and topics