Good design makes democracy
In a democracy, vital information must be equally accessible to all. A very user-friendly digital research tool from the Federal Ministry of Finance (BMF) for the federal budget fulfills exactly this requirement.
The federal government distributes hundreds of billions of Euros annually through the federal budget. What citizens are most interested in: How is taxpayer money planned and spent? And experts and journalists are often looking for numbers for their work. But the results are often complex, and budgets that might provide explanations are difficult for most to understand.
The digital federal budget enables transparent insights into political decisions. The tool is a particularly easy-to-use solution that citizens can use to form their own opinion thanks to well-prepared information. Thanks to our support, the BMF has become a pioneer for the open handling of data and promotes democratic processes.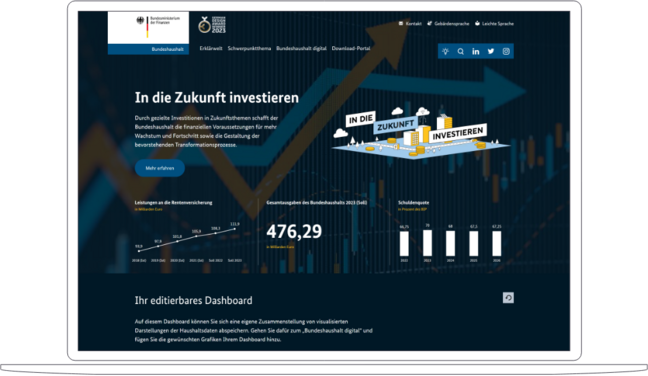 First, we modernized the federal budget information platform in a comprehensive relaunch. Among other things, the focus was on a technical update based on Government Site Builder 10. Much more important to us, however, was user-friendliness to give new impetus to the offer so that the budget issues of the federal government become understandable for everyone.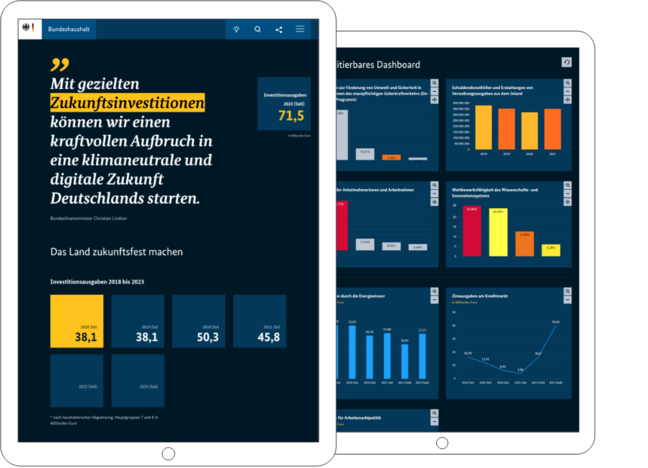 Together with ]init[ we have several UX-Workshops worked out what users of the platform really want. We wanted to present facts clearly and visualize them in a playful way. From our point of view, the site does exactly that – with modern graphics, easy-to-understand texts and even a light and dark mode.
Federal Ministry of Finance
Interactive research tool
The heart of the platform is the visualized representation of the household data of the last few years. Here users can research information individually, call up individual plans or download raw data. Federal income and expenditures can be broken down into individual items. Visualizations can be saved for later on a freely editable dashboard.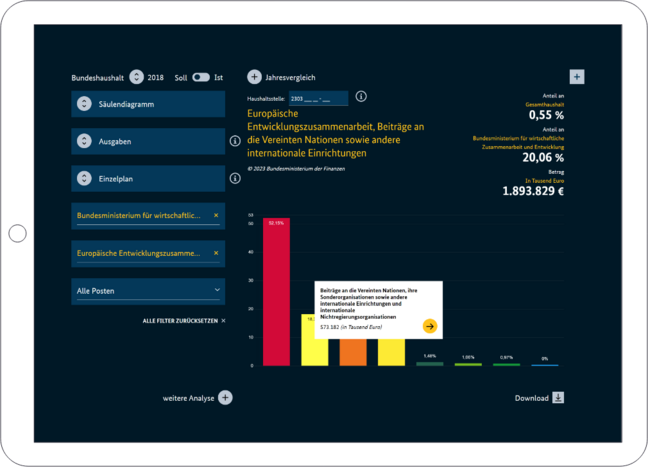 With these functions, the website is a relevant tool for the work of professionals and journalists, as well as for citizens who want to know what is happening with their taxes and duties.
Our services in the project
Current projects and topics