Digital corporate culture for employees
The more than 62,000 employees of BSH Hausgeräte now have a digital platform for internal communication that they can help shape and that meets the requirements of a modern working environment. Together with BSH Corporate Communication, we received the Inkometa Award 2022.
Our working world is changing and employees increasingly want to exchange information digitally. A modern intranet fits into the hybrid everyday working life and promotes the corporate culture. To achieve this, however, it must meet a number of technical requirements.
BSH Hausgeräte's intranet lagged behind comparable offerings from large companies. Yet it is even more important for the home appliance manufacturer, with locations worldwide, to network employees with one another. We brought together the 50 independent country-specific intranet offerings with the latest technology. We focused on the protagonists of the group: the employees.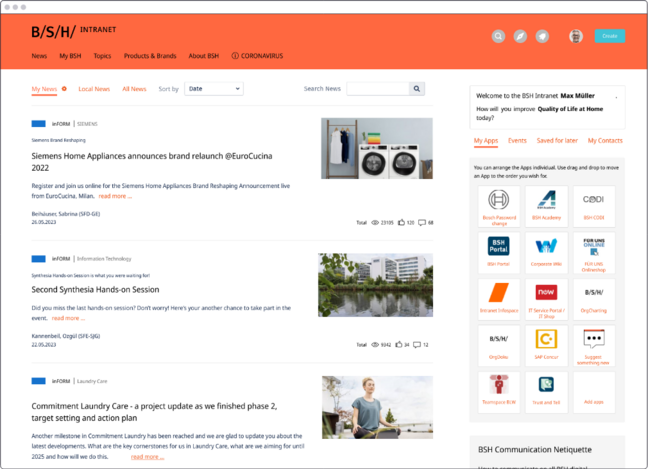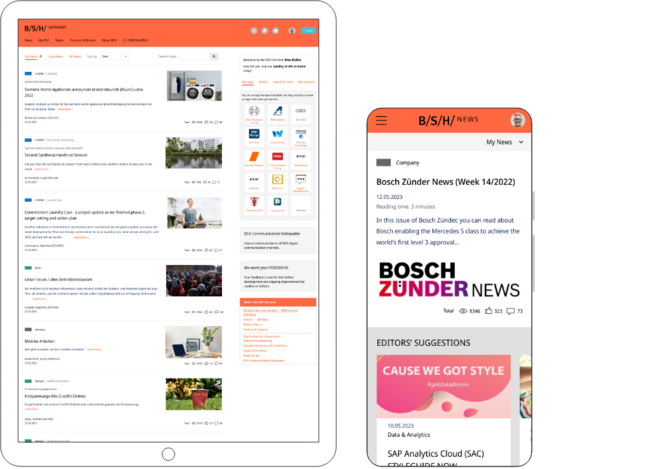 Die Wünsche der weltweit verteilten Nutzer:innengruppen genau zu verstehen war der Nukleus des Projekts. Wichtiger Erfolgsfaktor dafür war die tiefe Integration des UX-Teams von ]init[ in der Konzept- und Designphase.
Product Owner Intranet, BSH Hausgeräte
Together with BSH Hausgeräte, we tackled the mammoth project and formulated our guiding principle for the intranet: "Make it yours!" - a personalizable internal platform that gives employees individual creative freedom and opportunities for interaction. For this, we received the Inkometa Award 2022 in the category "Social & Collaboration Intranet" together with BSH's Corporate Communication.
Overarching information and interaction
BSH now offers its employees an intranet that makes everyday work easier. Users can quickly find their way around thanks to the intuitive design and have faster and more practical access to their daily tasks and workplace-related information. To achieve this, we have broken down silos: Knowledge is now presented in specialist topics across departmental structures, and employees can share and network with social interaction features. This is how new ideas emerge across disciplines and locations.
We also implement strong concepts strongly. That's why we supported BSH Hausgeräte not only in the UX phase and in the preparation of the relaunch. We also implemented the platform with the content collaboration software Confluence and supported our client during the global rollout. In addition, we supported the integration of further site-related services. The more than 1,500 editors received extensive training and coaching for working in the new backend and are pleased with improved workflows and significantly simplified handling.
Finally, the BSH Hausgeräte intranet has grown with us into a platform on which employees can share knowledge and network across the company. This makes it a real contribution to a modern corporate culture.
Our services in the project
Current projects and topics