From traditional specialist publisher to digital pioneer
With a tailor-made shop platform, Beuth Verlag revolutionizes the distribution of DIN standards with us.
Beuth Verlag got a lot out of digitalization at an early stage. 80 percent of national and international standards, technical regulations and specialist literature are already sent over the digital counter of the web shop. Like the subsidiary of DIN, we found: There's more. That's why we followed up with a completely modernized shop platform, which with an optimal, future-proof technology setup brings the advantage that distinguishes successful e-commerce providers.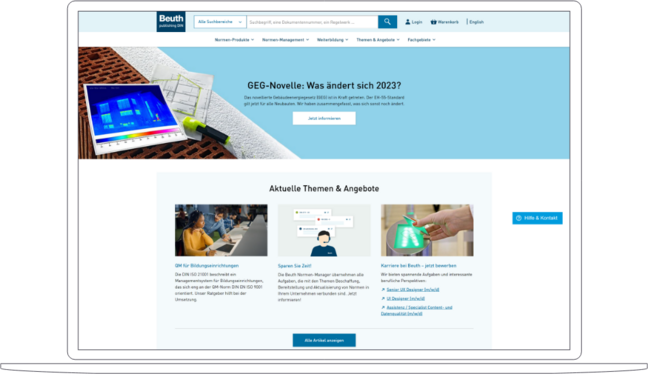 Building on Beuth's digital sales and content management strategy, we first renewed the entire CMS architecture of the shop system. We were able to proceed very efficiently because, together with CoreMedia we developed a very adaptable CMS framework for the digital projects within the German Institute for Standardization e. V. (DIN). By reusing this solution, we were able to achieve quick results.
Beuth Verlag offers many products that are attractively presented in the shop and should be easy for customers to find. In order to design a simple customer journey, a close consultation in the interdisciplinary team was important to us. In agile sprints, we therefore met again and again with Beuth's e-business team and got the expertise of the designers from moccu and the SEO specialists from Peak Ace. Based on 500 user stories and a prototype, we gradually approached an application-oriented shop experience.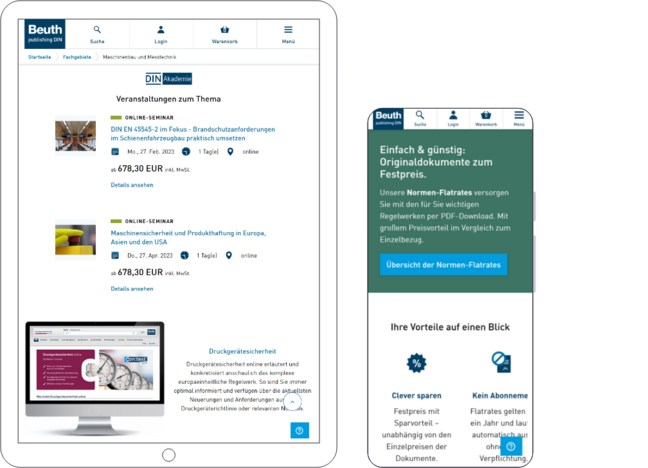 Deep integration of third-party systems Brand new product information
A clear online purchase always includes up-to-date product information. The Beuth shop platform can obtain such data in real time from the DIN21 system via a technical interface. The asset repository for standards and technical rules integrates product data into the shop in real time. In the course of the connection to DIN21, we also optimized the CMS in some other places in order to raise the shop to the current state of the art in e-commerce. For example, targeted tags can be created for Google searches, the shopping cart process is simplified and the integration of the Prudsys Recommendation Engine enables personalized product recommendations.
With the new shop platform, we are not only creating an optimal shopping experience for users. By constantly adapting the technical offer, Beuth Verlag is always one step ahead in the e-commerce competition.
Our services in the project
Current projects and topics