]init[ in 3rd place in the 2022 Internet Agency Ranking
Our expertise wins: Thanks to our experience in the end-to-end digitalization of public administration, we repeatedly secured a top position in the industry ranking of German full-service Internet agencies. In 2021, we reached the 100 million Euro sales mark for the first time.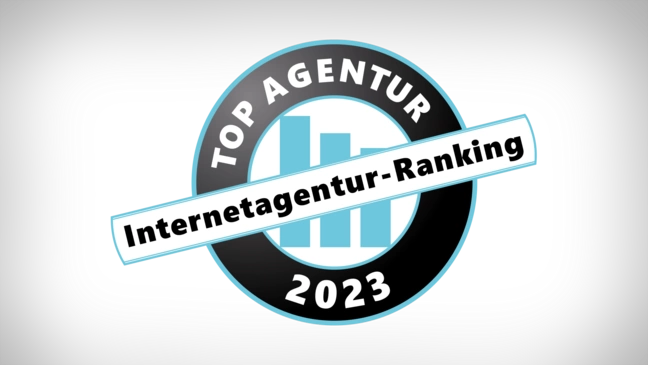 In 2021, our all-round service again stood at a high level compared with the industry as a whole and we continued on our growth course. In the Internet agency ranking of the Bundesverband Digitale Wirtschaft e. V. (BVDW), we secured top ranking positions with a sales bonus of 55 percent - and total sales of around 138 million Euros.
In the subrankings, we won 3rd place in the "Platforms, e-commerce and services" segment and 5th place in the "Digital transformation & strategy" segment, we are one of the big winners in 2022.
After a record year in 2020, we were able to grow strongly again last year under changed conditions and once again generate the highest growth among the top 5 digital agencies. Our success rests on a growing awareness of holistic end-to-end digitalization that now fully permeates the market.
CEO ]init[
Reasons for the rapid growth
In addition to new business in the finance and health sectors, the growth driver was once again public administration. The Online Access Act has triggered a digitization push there. Departments at federal and state levels therefore increasingly invested in user experience design, the implementation of platform solutions, and the operation of digitalized administrative services - in other words, our areas of expertise.
Our 25 years of experience in the public sector - both in the transformation of processes and services as well as in digital communication and user experience - have given us a unique skillset that helps us win and defend relevant framework contracts and budgets.
About the Internet Agency Ranking
The Internet agency ranking, which is compiled annually by the BVDW, iBusiness and the advertising trade journals Horizont and W&V, has been regarded as an important benchmark for the digital economy since it was first published in 2001. The rankings help companies to make a preliminary selection for agencies and service providers for their own digital projects.
Current projects and topics